I wanted to share this video with you. I honestly believe that it is one of the most amazing "testaments" to what you can get through network marketing. Put on your headphones, so you can really hear the words.
Please enjoy!
You can't wait for inspiration.
You have to go after it with a club.
-Jack London
---
---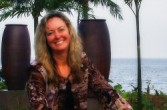 Sandy Shepard heads up The Dream Choosers Team. She has way more degrees than any sane person should. She has an Associates, a Bachelors, a quad-major Masters, and a Doctor of Laws degree. She is also a Certified Business Success Coach, and holds certificates in authentic movement study and practice, therapeutic bodywork, and advanced bartending. She worked in the Business Affairs/Legal department at LucasArts, as well as software companies such as Mindscape, Broderbund, Mattel, and Scene7, winding up as General Counsel. But everything changed when she found the right network marketing company. Information about her two other books can be found at BeABondGirl.com. Information on her law practice can be found at GoodSolutions.com. She lives in Marin County, California with her husband, and enjoys travelling internationally and training for her next marathon, triathlon or Ironman while raising money for charity.
Tips From The Top
Subscribe to our "Tips From The Top"