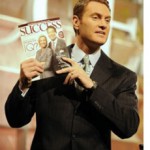 Darren Hardy, publisher of SUCCESS Magazine and best-selling author of The Compound Effect, is one of the greatest voices in the Network Marketing industry. For the next 17 posts, I am going to introduce you to a set of bite-sized thoughts from Mr. Hardy. Each is only about three minutes long, so you can listen to them each day – or if you are coming to this blog later on, you can listen to them all at once!
Today's snippet asks: Is being an entrepreneur really for you?
Are you scared of starting down the path of being "your own boss"? What might it entail? What's involved? The most important thing to remember is:
All successful people in the world were once newbies.
Now it's time to listen to Mr. Hardy on this subject!
---
---