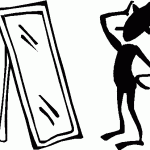 At a job, you're performing a task – when you get into network marketing it seems like what you're sharing is financial freedom, hope, the product…but what you're really sharing is YOU.
Though we represent products (and recruit), we're not in the sales or recruiting business. We're in the attraction business.
When people are considering what you're saying, it's a fact that they're generally looking rather than listening. They're thinking, "Do I want to be like this person?" more importantly, "Do I want to come off to my friends and family like this person?"
You are the "poster child" for the company, so how does the company look, when you look in the mirror?
This is a huge tip that you will learn in today's audio. The power is not in the words themselves – it's who you are BEHIND the words.
Pay particularly attention to what Mr. Hardy says with respect to who you need to "become" to attract who you are looking for. The more YOU grow, the more your BUSINESS will grow!
Success is something you attract by the person you become, not by what you DO. For things to improve, YOU have to improve. For things to change, YOU have to change – and when you change, everything changes for you.
Let's listen!
---
---