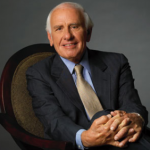 How to get around Landmine 2? In this 11-1/2 minute segment, Darren Hardy calls on Jim Rohn to help explain one of the best ways around it. Taken from Mr. Rohn's "Building Your Network Marketing Business" (the entire hour has been uploaded to YouTube here), this section contains invaluable advice, in the folksy way that Mr. Rohn delivered his information. It contains one of my absolute favorite introductory lines:
I got a part-time thing goin' on…
I could listen to Jim Rohn all day – and if you are serious about this industry, you might want to look for and download more of his information. He's obviously a character, but his information really sticks with you.
Mr. Hardy also discusses other ways around Landmine 2 – you might want to wait to listen to this one until you can take notes, because this really is just so important. Setting boundaries, especially with your family, is tough but is immensely important.
Mr. Hardy reached a six-figure income by the age of 18, and 7 figures by the age of 24, which he specifically attributes to building the habits found here.
Mr. Hardy mentions his proven method for achieving big goals, and I thought I'd put the link here, since using this link saves you $100 on the Best Year Ever set of CDs, books, etc. I don't make a thing doing this, and personally I haven't used this system (my MLM has a system that I use instead), but it looks good to me and I believe in Mr. Hardy so if you are looking for something to really get you off on the right foot – or back ONTO the right foot, you might want to check it out.
Finally, remember the blog a while back about Calendaring? That fits in here too! You might want to go back and re-read that one, because in a way, as Mr. Hardy states, your (future) life depends on it!
---
---