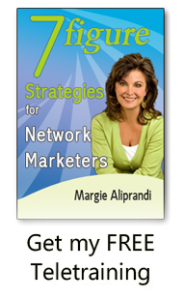 I'd STRONGLY recommend checking out this link (and no, I am not an "affiliate" of any kind…I just truly think she is fantastic!!):
http://margiealiprandi.com/6steps/
When Margie began her career in network marketing, she was a junior high school music teacher and struggling single mom. Her business now spans 29 countries with a team of over 250,000 worldwide. She achieved a 5 figure monthly income within a year and millionaire status within three years. Margie was the first in her company to achieve the top rank of Crown Diamond. She has received every possible award in her company, including International Distributor of the Year three times. She is the visionary behind the "1000 Moms Making $1000 and Making A Difference" campaign which seeks to empower women to make a difference in their own lives, while making a difference in the lives of others.
I think her strategies are GREAT and applicable no matter what network marketing company you choose to represent!
---
---